Article, life_easier_errands and tipcard, from the series "Making Life Easier" by Pamelazita Buschbacher, Ed.D. includes lots of helpful reminders to get in and out of the house a bit more comfortably with children.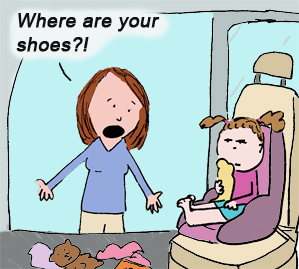 Here are some of her bullet points…
Use a transition warning (e.g., verbal, timer,count down, sing a song).
 Tell your child where you will be going.
Use "First…, Then…" statements.

 Use a Travel Book.
 Include one of your child's favorite places.
Provide a transition object (toy, blankie, book, travel book, etc.).
 Provide 2 or 3 choices for the transition object.
 Prepare a cooler.
 Prepare your diaper bag or a backpack (written list in bag).
Getting in the Car Seat:
 Make getting to the car a game (sing, skip, hop, race, count to 10).

Make buckling up in his car a game (sing, encourage child's your child's help).
Show a picture of him safely buckled in his seat. Keep it in his travel book.
Insist that everybody has their seatbelts on before the car moves. 
Provide your child choices.

Your child could choose music, toys, books, etc.
Make your car a "child friendly" place.
 Keep an activity bin in the car. Rotate the contents every now and then. Allow your child to choose some of the contents.
Play children's music CDs. Provide 2 or 3 choices. Sing together.
Cool or heat car in advance. Provide a means for your child to communicate how he feels.